Enjoy it today and appreciate it tomorrow.
Nationally known for improving flow and functionality with her approach to luxury design, Bonnie J. Lewis helps you live a full and beautiful life at home, even as you age.
Bonnie J. Lewis Design innovatively designs inspiring, beautiful, functional environments that meet our ever-changing needs for wellbeing.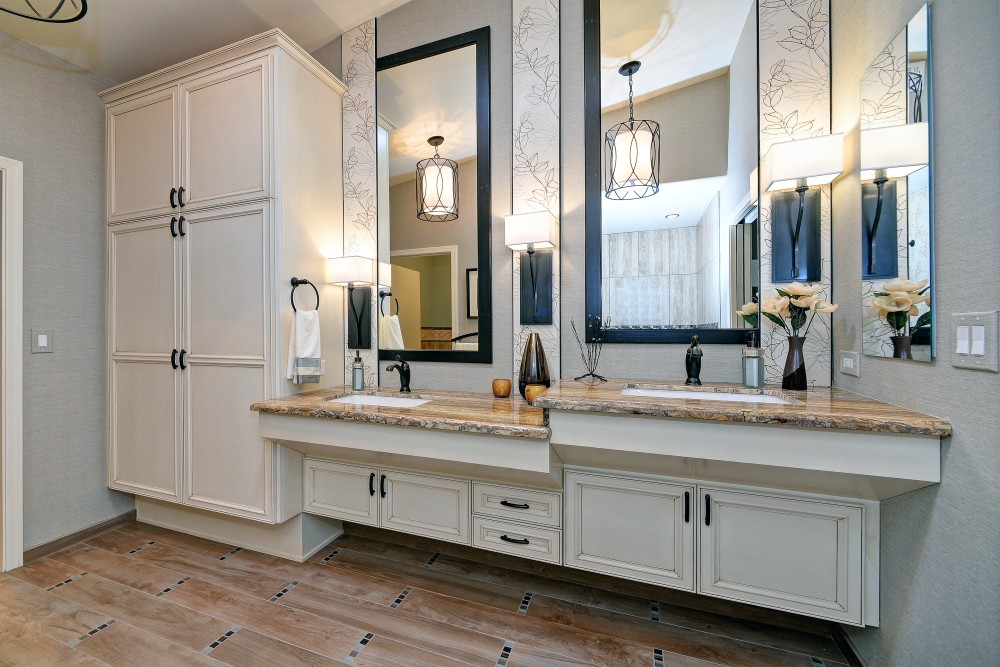 Bonnie J. Lewis Design TESTIMONIALS
I love that my new bathroom combines function with elegance and style! Bonnie's creative design conceals ADA features that ensure my comfort and safety.
Bonnie was exemplary in her knowledge of the key design issues, her willingness to provide multiple options, and her adherence to schedule and budget. Bonnie is a true professional – always courteous and a pleasure to work with. I can recommend her without reservation.
Due to having both knees replaced, I had Bonnie redesign my Master Bathroom into a more functional space. My favorite features are the shower bench, which I can flip up, and the big niche for all my shampoo and lotions. It is not just functional, it also turned out beautiful.
Dad loves his new suite and we are so pleased with the remodel design and the workmanship. We get compliments often on it and the design. I so appreciate all your hard work and diligence. Thank you again for your beautiful work and for all you do. You are truly a Blessing.
Bonnie designed our Master Bath for remodel. Her ideas were outstanding and elegant. She also managed the project. We were very happy with the design, construction and the entire project. Her selection of specific high-end materials and items used in the project added an upscale look to it. The contractor she suggested also did a wonderful job for us. Would I use Bonnie again? Absolutely. I highly recommend her.
What a great experience working with Bonnie. From the start, she was very professional. She listened to our ideas and made wonderful suggestions. About halfway through the project, we learned just to go with Bonnie's instincts. The overall design and the way she brought it all together with exceptional use of color far exceeded our expectations. All our friends were amazed at the outcome, too.
My mother and aunt were very happy being able to live together. They both love the remodel design additions and changes. We don't think I could have made a better selection of remodel designers for this project, you are awesome! My mother's last six months were comfortable and happy thanks to your innovative design work. Thank you.
Bonnie Lewis has been our chosen designer and project manager at McDowell Village Senior Living for several years. Bonnie has proven to be responsive and proactive from the project management aspect and her designs are innovative and well received by our discerning clientele of elder adults and their adult children. She is passionate about her work yet always considers her clients' wishes to create beautiful and functional end products. I don't hesitate to recommend Bonnie for any project that requires an experienced and accomplished design and project management professional.
Working with Bonnie on renovating our master bedroom has been an absolute pleasure. She took time to understand our goals and tastes, diligently searched for creative and cost-effective options for every piece, and recommended reputable sub-contractors. Her organizational skills and attention to every detail resulted in efficient and timely project completion and the beautiful end-result we love!
After taking care of my mother late in life I knew first hand how hard it could be to manage aging in place with a standard bathroom. When it came time to remodel the master bath I knew I wanted it to be ADA compliant in case of possible future needs and I called Bonnie. I am very glad I did! My beautiful new bathroom does not make me think "disability" or "nursing home" — the words that come to mind instead are "feminine, elegant, and serene." It makes me happy every day.
I could use every complimentary adjective in the dictionary to describe Bonnie Lewis and her work, she is that terrific. Her designs transformed my master bathroom and bedroom into beautiful, functional spaces far exceeding expectations. Her designs "wow." Her attention to detail and oversight of the project was outstanding. The total experience was such a great pleasure that I will be working with her again on my next remodeling project.
Bonnie Lewis' commitment to providing a functional, yet high-quality décor for her senior clients is not only beneficial to her clientele, but also benefits the housing industry. When potential residents tour our community and get a glimpse of Bonnie's work, they are amazed at how apartments can seemingly come to life, with Bonnie's well-thought-out touches. From the paint schemes to the arrangement of furniture pieces, individuals can envision their own safer living arrangement, and start to get excited about the move-in process.
We'd love to engage with you
Contact us to schedule a design consultation.
Email Us
design@BonnieJLewisDesign.com
Write Us
15029 N. Thompson Peak Pkwy, Suite B-111-640
Scottsdale, AZ 85260-2568